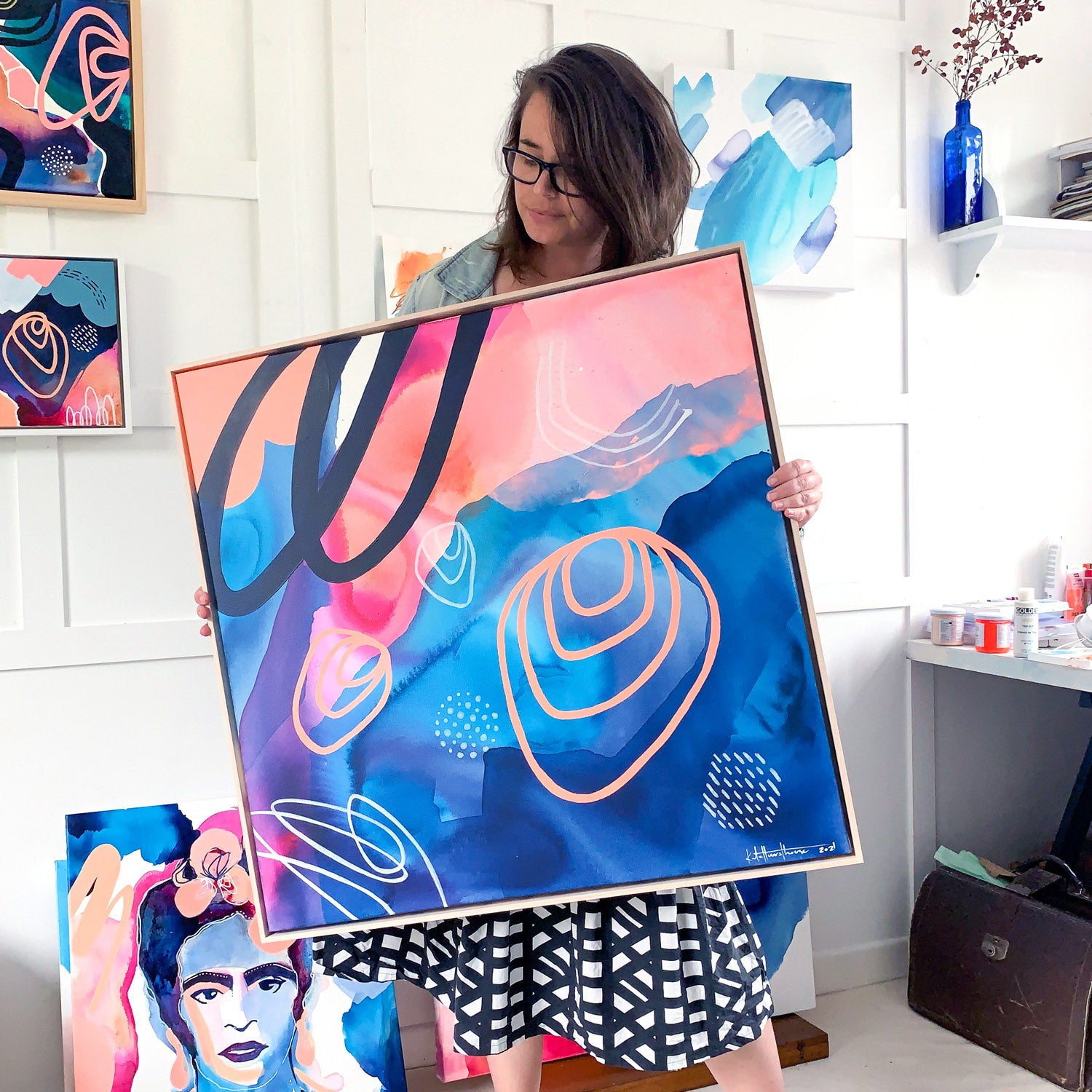 Let's work together
I take on select commissions throughout the year. I love chatting to clients about their projects and how a piece of original art can make an impact on their home, brand or business.
Custom original artworks are unique and incredibly special. Having an artwork created just for you is a very special way to add to (or start!) your art collection.
Having a custom artwork or illustration created for your brand or product will elevate it to the next level.
Maybe you are after a framed canvas original for your home, a mural for your office or event, or an unique artwork to put on your products and merchandise.
Whatever the vision I would love to discuss how we can make it come to life. Click the button below to set up a time to chat.
Contact
~ what my clients have to say ~
~ Kelly & Aaron ~

We love our commission piece by Kate! Kate was awesome to work with and we got everything that we wanted in our art and more with her creative touch. The inky base colours are amazing. It was exciting seeing little videos and photos of our art coming to life on Instagram.

Thank you Kate!

~ Woman Magazine ~

You did the most amazing job and we are so honoured to work with you.

~ Jenny ~

Kate is a delight to work with and I have always been very pleased and impressed with the work I have commissioned, in particular to celebrate my daughter's 21st birthday and more recently the loss of my mother. She is very responsive to what is required and willing to make alterations to the penultimate work to fit with my expectations. I am always proud to show Kate's work to family and friends.
~ clients & collaborations ~
Collapsible content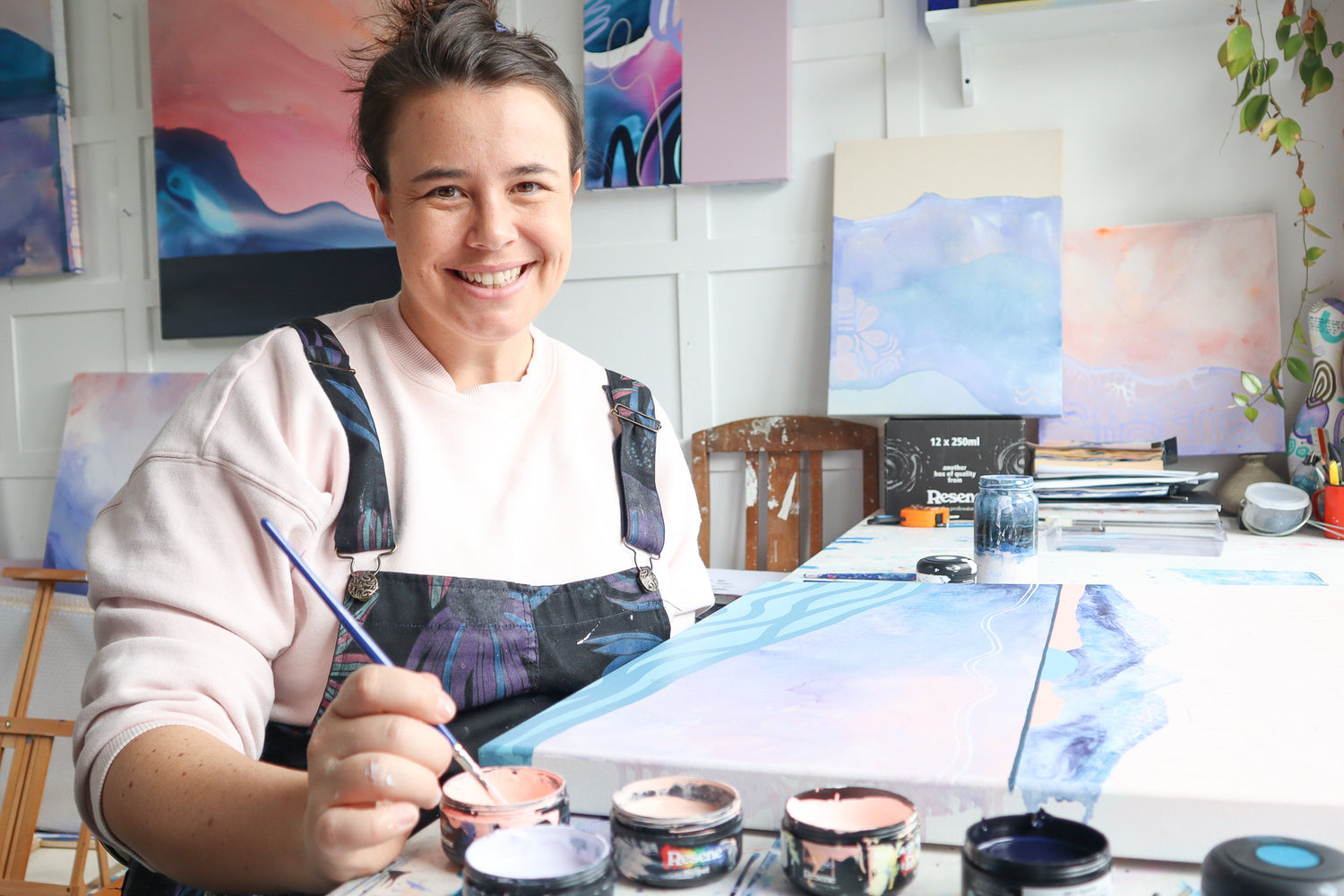 HOW DOES THE COMMISSION PROCESS WORK?

It is very similar for both private or commercial projects.

Have a look through my website and work and save some pieces that stand out to you.

Email me and let me know a bit about what you have in mind. Is it a personal artwork just for you? Is it an artwork for a brand campaign? Is it artwork to apply to products? Where will it be displayed? What size do you have in mind? What is your budget? If this is a commercial commission let me know what sort of usage rights you will require. If you don't have all the details, that's ok, I can help you figure out what will work best.

Once we have had a chat I will formulate a quote and give you an indication of timing.

After we have confirmed all the details and are both happy with the agreement, I will require a 50% deposit with the remaining 50% due upon completion.

Once I have received the deposit I will being working on your custom commission and can keep you updated on the process along the way.
HOW MUCH DOES IT COST?

Commissions do cost more than original art because a lot of time and love goes into the collaborative planning of private commissions. Pricing depends on the size of the work, who is commissioning it and what it is going to be used for. 

We can create a piece of art at any size you want. The sizes and prices below are some indicative prices based on pre-made canvases purchased directly from the canvas supplier. These prices are to be used as a guide only. Prices may vary depending on the style of art and supplies required for canvas coverage, custom canvas sizing and time taken to complete individual works. 

300 x 300mm Canvas Framed: $500.00

600 x 600mm Canvas Framed: $1500.00

1000 x 1000mm Canvas Framed :$2500.00

Once I know more about what you have in mind we can discuss exact prices.
HOW LONG DOES IT TAKE?

This all depends on what I have going on in the studio at the time. With commissions there is often a bit of back and forward between me and the client as we perfect the brief. How long this takes varies from client to client. Generally I say a minimum of 4 weeks, we can discuss timings once I know the scope of the project.